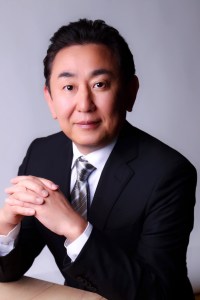 ■ CEO & President : Takenao TAKEMURA
・ Profile
1985 : Start career at Fujitsu Limited
After graduation from college, start work at Fujitsu Limited, and design LSI (Large Scale Integration Circuit) for Optical Transport System.
1995-2001 : Posted in Texas (USA)
Move to Texas in the USA as an assignee of Fujitsu to lead and manage the international design teams (American, Korean, Indian, Chinese, Vietnamese and Japanese) for LSI design. I could acquire management skills to lead members who have different cultures.
2006-2011 : Posted in Silicon Valley (USA)
Move to California (Silicon Valley) in the USA as marketing manager of the semiconductor device, and acquired international business skills through the following works. – Marketing Research – Business Development with top IT companies in the world – Technical Support for customers
2013 : Start New Career
Quit Fujitsu and start work for a US-originated company as a director of international marketing. Support Japanese companies to expand their business all over the world and students for oversea educations.
2017 : Establish TET Enterprise Inc.
Based on the lesson that "Happiness is when the people around you are happy," which he learned through living abroad and connecting with people from all over the world for many years, he established TET Enterprise in Hawaii, USA, a business entity that aims to "generate profits by connecting people and lead people around the world to happiness.
2020 : Establish SIRIUS Happy LLC
As we interacted with people from Asian and African countries, we learned about the current situation of serious environmental pollution, such as marine pollution caused by plastic waste, air pollution caused by toxic substances generated by the incineration of electronic waste and waste tires, soil pollution caused by landfill of industrial waste, and many lives are at risk due to lack of clean drinking water. The lack of clean drinking water is putting many lives at risk.
SIRIUS established SIRIUS Happy LLC in order to eliminate environmental pollution problems and save more lives by securing clean drinking water by signing agency agreements with Japanese companies that have excellent technologies to solve these problems and delivering these technologies to local communities. This initiative is attracting attention as a contribution to the SDGs (Sustainable Development Goals) adopted at the UN Summit.
■ CTO & Co-founder : Atsushi IKEHARA