Protecting the Global Environment with Japanese Technology!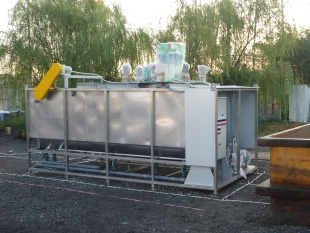 High functionality, safety, reliability, and mobility at a low cost!
Water tank for
Simple pollution / Complex pollution 
Water Treatment Equipment
■ High Functionality
High speed processing from analysis to separation
  Precipitate heavy pollutants in water within 20 seconds at the fastest and perform purification treatment in 25 minutes from surfacing to removal, and in 27 minutes at the longest.
Capable of treating seawater, oil-contaminated water, organically contaminated water, heavy metal contaminated water, etc., regardless of water quality.
■ High Safety
Fully automated purification and treatment of hazardous heavy metals and lead compounds without any contact.
■ High Reliability
Low failure rate and easy maintenance
■ High Mobility
Half a day from installation to operation for a mobile water tank
■ Low cost of implementation
About half the price of conventional processing equipment of the same scale.
Small size and large capacity for heavy contaminated water treatment
| | | |
| --- | --- | --- |
| | Machine dimensions | Processing capacity |
| Min. size | 0.96m×1.16m×0.89m | 7.9~6.5m3 / 24h |
| Max. size | 11.9m×2.3m×2.47m | 1,924~1,538m3 / 24h |